Volume 50, Issue 3, 2018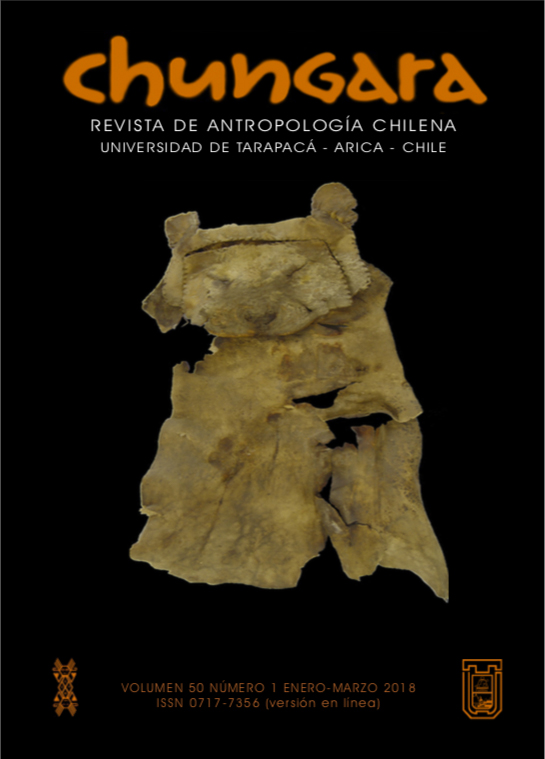 Credits
INDEX
ARCHEOLOGY AND HERITAGE
Un Enclave Arcaico Tardío en la Aguada Costera de Gualaguala (Desierto de Atacama, Norte de Chile)
A Late Archaic Enclave in the Gualaguala Coastal Spring (Atacama Desert, Northern Chile)
349
PDF
Benjamín Ballester, Estefanía Vidal, Elisa Calás, Francisco Gallardo, Patricio Aguilera, Constanza Pellegrino y Alejandro Clarot
 
Estudio Isotópico del Consumo de Recursos Marítimos y Terrestres en la Prehistoria del Desierto de Atacama
Isotopic Study of Marine and Terrestrial Resources in the Prehistory of the Atacama Desert 
369
PDF
Charlotte L. King, Bernardo T. Arriaza, Vivien G. Standen, Andrew R. Millard, Darren R. Gröcke, Iván Muñóz y Siân E. Halcrow
 
Manufactura de Cuentas de Mineral de Cobre en Atacama (Chile) Durante el Período Medio (ca. 400-1.000 DC): Nuevas Evidencias Contextuales y Aportes desde la Experimentación Arqueológica
Manufacture of Copper ore Beadsin Atacama (Chile) During the Middle Horizon (ca. 400-1000 AD): New Contextual Evidences and Contributions from Experimental Archeology
397
PDF
Helena Horta Tricallotis y Wilfredo Faundes Catalán
 
Producción Metalúrgica Local y Coexistencia de Tecnologías Metalúrgicas en San Pedro de Atacama Durante el Período Medio (400-1000 DC)
Local Metal Production and Coexistence of Metallurgical Technologies in San Pedro de Atacama During the Middle Period (400-1000 AD)
423
PDF
Ariadna Cifuentes, Valentina Figueroa, Diego Salazar y Benoît Mille
 
Nuevos Contextos Funerarios en la Transición Pampeano-Patagónica Oriental (Pcia. de Buenos Aires, Argentina): Aportes al Holoceno Medio y Tardío Inicial
New Funerary Contexts in the Eastern Pampa-Patagonia Transition (Buenos Aires Province, Argentina). Contributions to the Middle and Initial Late Holocene
441
PDF
Gustavo Martínez y Gustavo Flensborg
 
ANTHROPOLOGY AND HISTORY
 
Los Albores de la Industria Salitrera en Tarapacá
The Beginnings of the Nitrate Industry in Tarapacá
 459
PDF
Carlos Donoso Rojas
 
Comunidades Indígenas, Empresas del Litio y sus Relaciones en el Salar de Atacama
Indigenous Communities, Lithium Companies and their Relations in the Salar de Atacama 

471

PDF 
Hans Gundermann y Barbara Göbel
 
De Senderos a Paisajes: Paisajes de las Movilidades de una Comunidad Mapuche en los Andes del Sur de Chile
From Trails to Landscapes: Landscapes of the Mobilities of a Mapuche Community in the Southern Andes of Chile 
 487
PDF
Viviana Huiliñir-Curío 
 
Etnografía de la Nostalgia: Migración Transnacional de Comunidades Chilotas en Punta Arenas (Chile) y Río Gallegos (Argentina)
Ethnography of Nostalgia: Transnational Migration of Chilote Communities in Punta Arenas (Chile) and Río Gallegos (Argentina) 
 501
PDF
Juan Manuel Saldívar Arellano 
 
Pluralidad de Voces en los Discursos del Bienestar: Una Experiencia Etnográfica Reflexiva
Plurality of Voices in Wellbeing Discourses: A Reflective Ethnographic Experience
 513
PDF
Juan Jaime Loera González 
 
BOOK REVIEWS
Humo, Barro y Cuero. Recorridos de la Memoria en los Andes del Sur (Ofrendas y Plegarias)
523
PDF
Reviewed by Fernando Garcés V.